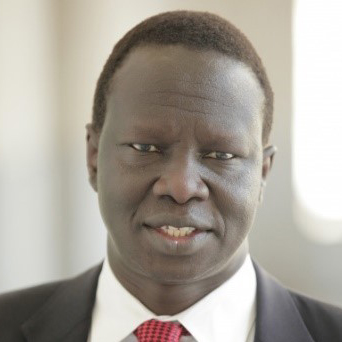 John Thon Majok – Senior Program Analyst, The Wilson Center
John Thon Majok is a Senior Program Analyst at the Woodrow Wilson Center's Global Sustainability and Resilience Program where he is engaged in thoughtful analysis of budget, resilience, refugee, and forced migration issues among other international development topics.
Before he joined the Wilson Center in 2013, Majok was a special projects contractor at the U.S. Department of State where he worked with the international exchange participants of the Fulbright, International Visitor Leadership Program, and Youth Leadership programs. From 2007 to 2009, he was a program officer at the Council of American Overseas Research Centers where he implemented a country portfolio of the State Department's Critical Language Scholarship Program aimed to promote mutual understanding by sending U.S. citizens to learn foreign languages in China, Russia, India, and other countries. At the Academy for Educational Development, he coordinated a global recruitment of skilled professionals for the USAID-funded Diaspora Skills Transfer Program aimed at post-conflict reconstruction efforts in South Sudan. He was a congressional intern at the U.S. House of Representatives in 2004.
After thirteen years of living in two refugee camps in Africa, Majok came to America in 2001 through the U.S. Refugee Resettlement Program and he was resettled in Tucson Arizona where he quickly integrated himself into the American society. He graduated with honors from the University of Arizona where he also received an outstanding senior award. He has discussed refugee issues on the BBC, NPR, and the Global Journalist networks among other media platforms. Majok has a bachelor of science in public administration from the University of Arizona and a master of public administration from George Mason University in Virginia.
John Thon Majok is the 2018 Annual Conference keynote speaker on Friday, August 3 at 11:30 am.